Family Rafting Cairns
Why should the adults have all the fun? Barron Family Rafting is a fantastic introduction to white water rafting which all the family can take part in. THis tour only operates during school holiday periods, please feel free to contact our office for availability.
Not only will the kids reap the benefits of physical activity and social learning, but will also get to experience a whole range of life skills including pride, confidence, co-operation, self-belief and resilience from acting on their amazing sense of adventure. For adults this is an enriching experience, we're all kids at heart! and to share the thrills and excitement of white water rafting with all the family will provide wonderful lifelong memories.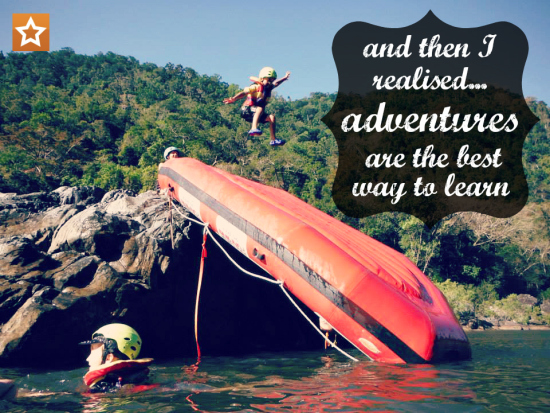 Barron River Family Rafting
This fantastic half day river rafting adventure is one of the most fun-filled family activities in Cairns. Designed for children aged 6 to 12 years, this exciting tour takes place on the gentle rapids of the Barron River. Only 20 minutes from Cairns & Northern Beaches, and just 40 minutes from Port Douglas, this half day trip includes approx 2 hours of rafting on grade 1 - 2 rapids. Dense rainforest surrounds Lake Placid, providing outstanding scenery. A brief walk over rocks with the rafts allows access to the rapid section and is where the fun begins!
Your rafting guides will provide great entertainment and lots of laughs along the way, sharing the scenic highlights and historical points of interest in the area. Drift down the gentle, grade two rapids or jump in and have a go at rock jumping! The kids will love it! All activities take place in a safe and fully guided environment.
8 person rafts and 2 person sports rafts are used to experience both styles of rafting during your trip. Sports Rafts accommodate an adult and child in each raft. Children 10 years old and above can be in a raft without an adult.
All guides are first aid trained and conduct regular first aid training sessions and are assessed on their skills regularly. Guides receive regular ongoing river training and assessments to maintain their existing high standards. All guides carry safety equipment to deal with any situation. All customers are fitted with top of the line safety equipment which is hand checked by the guides prior to getting on the water. On the bus journey to the river a rafting safety handout is provided in various languages. Detailed safety talks are conducted by the river guides prior to any rafting. On shore safety cover is set up by river guides where necessary and guides monitor the passenger's safety during every rapid.
River Tubing
Looking for a relaxed "lazy river" float? Mulgrave River Tubing provides a perfect adventure for families, oldies, young-uns and everyone inbetween. The Mulgrave River flows through the Goldsbrough Valley south of Cairns. This scenic experience allows you to drift through fun, small rapids on a professional high quality twin chamber tube. These nice and easy rapids are then followed by scenic swimming pools where you can jump in and take a refreshing dip.
A minimum of two guides are on the water, who provide a lot of fun and make the day really entertaining. Morning tea is included, don't forget to bring some extra snacks so you can eat while you drift! (Cooler box provided - no alcohol). Bring shoes that you don't mind getting wet, otherwise shoes and water-proof spray jackets are available for hire.
Foaming Fury guides are certified with the International Rafting Federation which is a world wide organisation setting the standard in the rafting industry. Regular ongoing river rescue and First Aid training ensure that our guides maintain high safety standards on every tour. Children 5 years and older can participate.