Tully River Rafting
Regarded as the best white water rafting experience across Australia and New Zealand, the Tully River offers 5 hours of action-packed rafting on grade 3/4 rapids.
This popular rafting trip will take you through remote World Heritage Rainforest, providing an unforgettable backdrop. Ideal for adventure seekers, the young and young at heart, the Tully River is certainly a must-do while staying in Cairns or surrounds.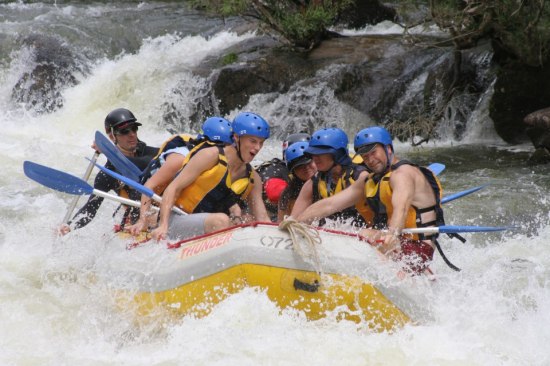 Your Day:
The Tully River is located about 2 hours south of Cairns, be prepared for an early start, pick up is at 6:00am. On the way to Tully your guide will conduct a safety briefing providing clear instructions on how to navigate the rapids. After a quick stop for breakfast (own expense), you'll then arrive at the river, ready to get your kit on. Safety equipment includes life jacket, helmet and spray jacket. Your guide will get you to practice the commands with your paddle (forwards, backwards etc) before hitting the rapids!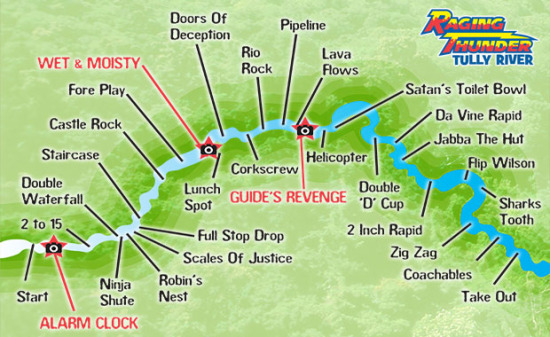 All guides are highly trained, extremely knowledgeable, and well known for their sense of humor, which makes for a fun and memorable day. The rapids all have a story behind their name which is hilariously entertaining! Lunch is a simple burgar and salad at a rustic spot beside the river, which adds to the overall experience. Once fuelled up its time to go again.
"You're at a rustic campsite-looking spot for lunch in the rainforest. If you went to a 5* restaurant for lunch it wouldn't be the same. After a burger or two, you're back on the river for more!!"
This trip will challenge you to get out of your comfort zone, and its worth every adrenalin packed moment. You'll feel like you have accomplished a huge feat by the end of the day. Most people don't stop raving about it for weeks afterwards!
Highlights:
Experienced rafting guides
Challenging rapids
Amazing rainforest scenery
Awesome BBQ lunch
Make new friends
Be the star of your own Movie!
Go Pro helmet mounted video cameras are available for hire:
What to Bring:
Sturdy footwear – sandals with straps (no flip-flops), sneakers or wetsuit boots.
Quick dry shorts/bathing suit
Avoid all cotton clothing, as cotton gets cold when wet
Set of dry clothes, shoes and socks (warmer gear for bus ride home)
Towel
Sunscreen
Money for souvenirs and snacks, photos etc.
Please do not wear any jewellery - it is recommended that you leave anything of value in your hotel safe for this trip.
At the end of the day enjoy a cold beer and grab some action shots of your adventure!
Tip: The photos come on a USB stick, if you work it out between your group you can share the cost of the photos which make it quite affordable for a lifetime of memories.
"The beautiful scenery you see as you raft down the river makes it worth the cost of the tour alone - its simply stunning!!!"