Viewing 1 to 7 of 7 packages
Tully Raft & Evolution Outer Reef






FULL DAY TULLY RAFTING WITH BBQ LUNCH

FULL DAY OUTER REEF ON BRAND NEW EVOLUTION

2 SPECTACULAR OUTER REEF LOCATIONS

SNORKEL GEAR, LUNCH, SEMI-SUBMARINE
2 Day Option 11 - Tully River Rafting & Evolution: Two fabulous daytrips at a very special rate! Exciting rapids and guaranteed water levels all year round. A very memorable, fun day with World Heritage rainforest providing an unforgettable backdrop. Experience two different reef destinations - Expect to see spectacular coral formations and masses of brilliantly coloured fish. Lunch included both days. ...more info
Reef-Balloon-Kuranda-Raft-Daintree






REEF EXPERIENCE - GREAT BARRIER REEF DAY TOUR

SCENIC KURANDA TRAIN & SKYRAIL

CAPE TRIB & DAINTREE SAFARI
4 Day Reef-Balloon-Kuranda-Raft-Daintree Ultimate Tour Package: Action packed comprehensive experience of the region. Experience the Great Barrier Reef, Daintree Rainforest, Crocodile Cruise, Rainforest Walks, Kuranda Train, Skyrail, Hot Air Ballooning & White Water Rafting on the Tully River. All in just 4 days! ...more info
Tully Raft, Passions Reef & Daintree






5 HOURS OF RAFTING GRADE 3-4 RAPIDS

LUNCH INCLUDED IN ALL TOURS
GET WET with a Full Day White Water Rafting adventure through the rainforest on the Mighty Tully River and EXPLORE the Rainforests of Cape Tribulation. SWIM amongst the coral gardens and beautiful fish of the Great Barrier Reef
...
more info
Rafting, Bungy, Skydive & Reef






5 HOURS OF RAFTING GRADE 3-4 RAPIDS

50M BUNGY JUMP WITH FREE T-SHIRT

14,000FT SKYDIVE WITH 60 SEC FREEFALL

EVOLUTION OUTER REEF CRUISE
For the complete adrenalin junkie, we have the package for you!! The 3 Day Option 8 offers the most awesome adventures in Cairns. ...more info
Balloon, Tully Raft, Passions Reef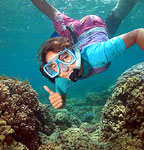 30 MINUTE SCENIC BALLOON FLIGHT
This 3 Day Option 2 package is designed for the adventurous in mind. Get high with ballooning, get wet on the rafting and snorkel or dive deep at the reef. ...more info
Evolution Reef, Tully Raft & Cape Trib






This 3 Day Tully Raft, Outer Reef & Daintree Rainforest package offers 3 full days of action & adventure! Enjoy a full day out to the reef, followed by a day of thrills & spills white water rafting and then finish your Far North experience with a full day Cape Tribulation expedition
...
more info
Hot Air Balloon & Rafting Combo






30 MINUTE SCENIC HOT AIR BALLOON

BARRON RIVER - RAINFOREST
Hot Air Ballooning & Barron River Rafting in one day: Raging Thunder will take you up on a magical and exhilarating flight of your life in the world's largest commercial hot air balloon. The Atherton Tablelands provide the perfect conditions for Hot Air Ballooning and the view from your basket of rolling hills and winding streams is stunning. Barron River Rafting is a fun and relatively easy way to enjoy the afternoon with no experience necessary. ...more info
Viewing 1 to 7 of 7 packages