Russell River Rafting
Adventure seekers will LOVE the full-day Russell River tour!
Unlike most white water rafting tours this tour uses 2 man sports rafts, so you are the captain of your own adventure. These rafts will demand all your concentration while you navigate through exciting rapids and currents. No experience is necessary, but it is definitely a more adventurous run for the beginner rafter!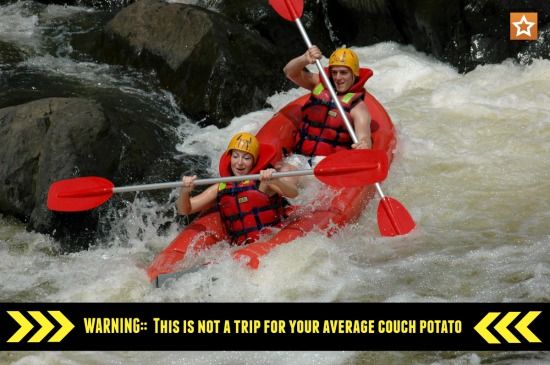 "An experience on the Russel River is much more than just rafting"
Just an hour south of Cairns, the headwaters of the Russell River lie in the shadow of Mount Bartle Frere, Queensland's highest peak. The day begins with a short 45-minute hike to the top of the river on a rainforest track that used to be an Aboriginal fishing trail. A relatively good level of fitness is required as the 2 man sports rafts are deflated and share carried in - this all adds to the hands on adventure!
This single file track winds its way through lush rainforest of Wooroonooran National Park to the crystal clear waters of the Russell River, where the guides will blow up the rafts and rig all necessary gear. After a comprehensive safety briefing and time to get used to the rafts (which are easily maneuverable), it's then time for some serious rafting action!
Enjoy up to 3 hours of exhilarating white water rafting through exciting rapids such as "Pinball", "The Three Stooges", and "Rollercoaster". The rapids are fairly continuous, with non-stop whitewater ranging from grade 1 to grade 4. The Russell River is not only a great rafting destination but also incredibly scenic due to its rainforest and surroundings, which you will have time to relax and enjoy inbetween rapids.
Take out is at the beautiful Golden Hole area where a well deserved lunch is served comprising of soft rolls, cold meats and fruit juices. Golden Hole has a lovely sandy beach, a rope swing and grassy area with a picnic hut and public loos.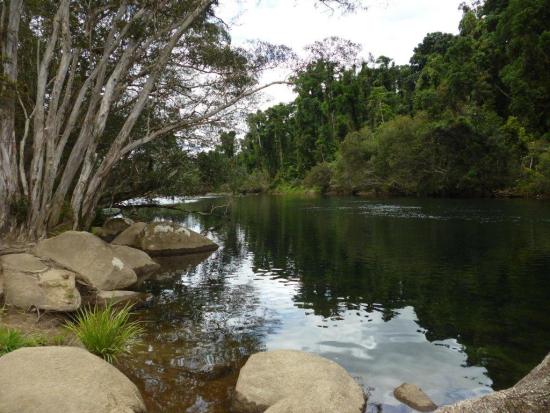 Tip: Remember to bring a towel and change of warm clothes for afterwards. Also bring some snacks with you if you are the nibbily type.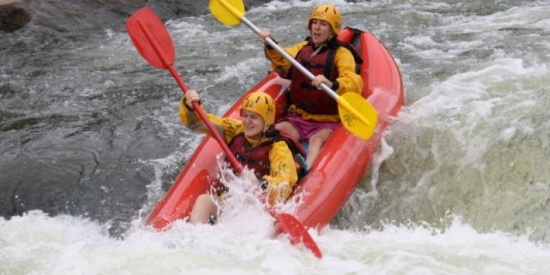 "It's affordable, nail biting and exhilarating! With rapids ranging from grade 1 to 4, there's something for everyone on this river"