Balloon, Tully Raft, Passions Reef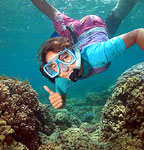 30 MINUTE SCENIC BALLOON FLIGHT
FROM
$683
Based on
1 ADULT
Save $20
Balloon, Tully Raft, Passions Reef Info
This 3 Day Package Option 2 is designed for the adventurous in mind. Get high with Ballooning, get wet on the Tully Rafting and snorkel or dive deep at the Great Barrier Reef.
Package Highlights:
30 minute scenic hot air ballooning
Breathtaking scenery
Tully River Rafting
Grade 4 rapids
Passions of Paradise
2 unique reef locations
DAY ONE: HOT AIR BALLOONING
Inclusions:
Return hotel transfers
Magnificent 30 minute flight
Personalised flight certificate
Spectacular scenery
Aviation levy
Enjoy a magical and exhilarating flight of your life in the world's largest commercial hot air balloon. The Atherton tablelands provide the perfect conditions for Hot Air Ballooning and the view from your basket of rolling hills and winding streams is stunning.

Raging Thunder will pick you up from your Cairns accommodation at 4.00am for the 90-minute drive to the flight site. You will arrive just in time to see the balloons beings inflated. As the sun rises your pilots gently lift off and quietly glide the balloons over the panorama of the Cairns Highlands .
Raging Thunder in-flight digital photo technology - Opportunity to have your photo taken whilst in-flight high above the Atherton Tablelands in one of the majestic balloons is a moment to be treasured forever. Your photo is then available for purchase.
A light Breakfast (muffins, danishes, tea & coffee etc) is available for purchase at the Mareeba Heritage Museum at an additional cost.
The tour returns to Cairns at 9am.

Please Note
* Not suitable for pregnant women. It is a CASA (Civil Aviation Safety Authority) requirement that all passengers be able to climb in and out of the basket unassisted.

DAY TWO: TULLY RIVER RAFTING
Inclusions:
Accommodation Transfers
Approximately 5 hours of white water rafting
Guaranteed water levels all year round
All tuition, no experience necessary
Safety equipment including life jacket, helmet and spray jacket
BBQ lunch beside the river

Tully River National Park Levy of $30
Raging Thunder offers an excellent full day of action packed white water rafting on the Tully River.
You will need to be up bright and early with a 6:30am pick-up from your accommodation, travelling to the upper gorge of the Tully River in an air-conditioned, video equipped coach for approximately 5 hours on the river.
The Tully River is about 2.5 hours south of Cairns and is rated Grade 3 and 4 which means there are exciting rapids and a good chance you will be in the water at some stage during the day. With over 27 rapids on the river this is the longest Tully River rafting trip available.
Your "Rescue 3" trained guide will give you all the tuition needed for this exciting days rafting, and only the world's best rafts are used! Each raft holds a maximum of seven passengers and one river guide, who will guide you safely down your river adventure. Minimal swimming ability required.
When you arrive at the river you will be fitted with a helmet and life jacket, allowing you to float along the river should you happen to fall out. All of the rafts stay together, traversing the rapids in a carefully planned sequence with guides providing cover from the river banks.
Lunch is a delicious BBQ on the banks of the river with a chance to take in the spectacular scenery. Follow this with more action in the foaming white water of the lower gorge.
The entertainment does not stop there - you return to the exclusive Raging Thunder Cafe where screams of laughter abound as you watch the day's action on video before you and your memories return home. It really is a very memorable, fun day with beautiful scenery running the length of the river. Photos are available at the cafe after the thrilling day.
* Minimum age for Tully River Rafting is 13 years old.
DAY 2: PASSIONS OF PARADISE - Sailing Reef Trip

Passions of Paradise visits two unique outer reef locations on the Great Barrier Reef.
The crew at Passions are dedicated to providing a truly unique and personalised reef experience.
Award Winners: Having recently won the Queensland State Tourism Awards Hall of Fame for Adventure Tourism you can be confident you are in great company. Passions of Paradise is also awarded as a Climate Innovator with Eco-Tourism Australia. Passions of Paradise have made significant progress towards reducing their carbon and environmental footprint.
Inclusions:
Sailing on stylish and fast catamaran

2 Outer Reef locations

Dedicated snorkelling instructor:

FREE tuition for those who want to learn to snorkel

FREE Guided Snorkel Tour

On-board marine naturalist presentation on coral

Snorkel gear including masks, snorkels, fins and floatation vests to aid non swimmers

10 minute FREE scuba diving demonstration

Morning tea including freshly brewed coffee and muffins

Lunch tropical smorgasbord, two hot dishes, cold meats, salads, fresh tropical fruit, bread rolls and prawns.

Cheese platter for afternoon tea

Two unique outer reef sites visited daily:
Each day we will select the site best suited to the weather conditions to give our guests the best possible experience. Our exclusive moorings include Flynn - Little Tracey, Flynn - Point Break, Milne - Three Sisters, Milne - The Whale, Milne - The Edge, Milne - The Drop, Thetford - 360. Thetford - Nolans Bommie, Moore - East Timor, Moore - West Timor, Moore - 5 Ways, Moore - Wildside, Pretty Patches, Breaking Patches - Long Bommie, Breaking Patches - Paradise Reef, Hastings Reef - 1770, Hastings Reef - Stepping Stones, Hastings Reef - Split Bommie and Norman Reef and so on...
All sites include stunning coral gardens, structures and fish. Some are notable for swim-throughs while others have very shallow lagoons. All reefs are different but you can be assured of having an enjoyable day with the best possible reef options offered on the day subject to tides and weather conditions.
Certified scuba divers can experience depths of up to 25 meters along the edge, water clarity is good and the Outer Reef is host to many exciting fish species.
Optional Extras: (charges apply)
Introductory diving is safe, fun, easy and the best way to see the Great Barrier Reef. You will be given a full on-deck briefing, shown how the equipment works and in small groups of no more than 4 divers, be led on a diving instructor controlled dive.
A FREE "try before you dive" policy which means that you are welcome to join in the briefings, get into the water and use the apparatus for approximately 5 minutes before deciding to continue with the dive.
Certified Diving: Includes fully guided dive with all your equipment, including wetsuits and computers.
Prescription Masks and Lycra/wet suits are available on board.
Cairns & Northern Beaches Hotel Transfers can be arranged for an additional cost: Most Hotels in Cairns City are close to the Reef Fleet Terminal and generally it is easy to walk.
Underwater digital camera hire, T-shirts, assorted quality beers, wine and soft drinks.
Check-in Reef Fleet Terminal, Cairns at 7:30am for an 8am departure.
The Reef Fleet Terminal is located at 1 Spence St.
The trip returns into Cairns at 5pm.
What to Bring:
Bring, hat, sunscreen, bathing gear, sunglasses, towel, etc. as you would for travelling to the beach.